Concert Ritualz - Lois Leigh - Metawave au Supersonic à Paris le 2 novembre 2022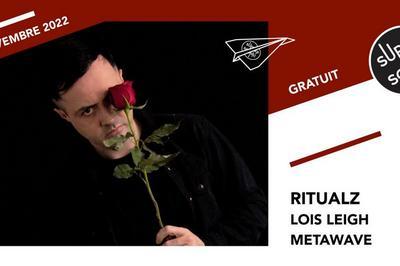 Supersonic

Plus d'infos sur le concert Ritualz - Lois Leigh - Metawave au Supersonic à Paris
WELCOME TO SUPERSONIC
Concerts gratuits, Nuits rock et Disquaire à Paris !
RITUALZ
(Darkwave - Mexico)
RITUALZ ventures further into the esoteric side of modern alternative music with a new concept album. After two and a half years of forced retreat due to global events, producer JC Lobo is back as RITUALZ with a brand new album titled RADICAL MACABRO to be released on June 24th, 2022. Preceded by five maxi-singles released monthly starting in January, the eight track, 40 minute long follow up to 2018's Doom is promised to be RITUALZ's darkest and heaviest album yet.
Conceived almost three years before its release, RADICAL MACABRO is a concept album that tells a story anyone could be the protagonist of. It's a tale too familiar to anyone in this day and age, about the dealings with anxiety and depression, the fight against the mind, experiences with therapy and medication and so on. RADICAL MACABRO is based on real life experiences mixed with a good dose of fiction, but its interpretation is open to the listener. Nothing is definite in this work.
https://ritualz.bandcamp.com/
https://www.youtube.com/watch?v=O51TYr_Zy04
LOIS LEIGH
(Coldwave - Paris, FR)
Sur les plaines de Sicile, se languit une panthère noire. Entre pop eighties et coldwave, Lois nous fait danser et rêver comme aux premiers jours de l'été. Née de la rencontre de deux artistes à la croisée des arts visuels et de la musique, le duo nous transporte ailleurs, quelque part entre Joy Division, Boy Harsher, The Sisters of Mercy, et Molly Nilsson. Porté par la voix grave de la chanteuse qui oscille entre anglais et fran?ais, Lois Leigh allie performance glam et sonorités post-punk.
https://soundcloud.com/loisleigh
METAWAVE
(Electronic noise rock - Paris, FR)
METAWAVE est la rencontre du cri primal et du chant des machines, des sonorités orientales et de la raideur des boîtes à rythmes, des basses synthétiques et des guitares noiseuses. C'est un voyage inspiré aussi bien de la musique industrielle, du shoegaze, de la techno que du post punk. Entre rythmes martelés et chant scandé, c'est la promesse de l'air après l'apnée, de l'écume après la vague déferlante, du calme après la dévastation.
https://metawaveduo.bandcamp.com/
https://www.youtube.com/watch?v=favSrWfKnPg
-----------
Mercredi 2 Novembre 2022
Entrée gratuite
- Ouverture des portes à 19h00
- Happy Hour de 19h à 20h (3?50 la pinte)
-----------
SUPERSONIC
9 rue Biscornet, 75012 Paris
Métro Bastille (sortie rue de lyon)
http://supersonic-club.fr/
Infos réservation :
Tél. 01 46 28 12 90 - Email. communication@supersonic-club.fr
Tous les artistes de Ritualz - Lois Leigh - Metawave au Supersonic
Ritualz •
Lois Leigh •
Metawave •
Les concerts à venir à Paris