Concert Uniform - Pinkish Black - Rivière De Corps à Paris le 13 avril 2022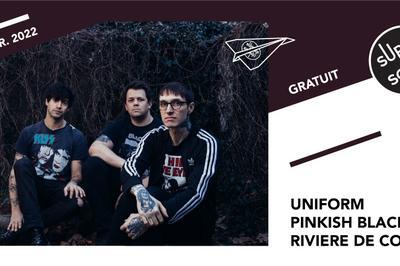 Supersonic

Plus d'infos sur le concert Uniform - Pinkish Black - Rivière De Corps à Paris
WELCOME TO SUPERSONIC
Concerts gratuits, Nuits rock et Disquaire à Paris !
UNIFORM
(Metal - OBLIQUE - US)
Uniform formed in New York City in late 2013 when old friends Ben Greenberg (Hubble, The Men, Pygymy Shrews) and Michael Berdan (York Factory Complaint, Drunkdriver, Believer/Law) realized they lived on the same street. Their impulsive collaboration quickly yielded Our Blood / Of Sound Mind and Body single. The six tracks that comprise the equally abrasive but more refined Perfect World have been coming together between tours and work ever since.
The music that Greenberg and Berdan conjure up under the Uniform moniker is immediate, aggressive, and even primal in form, but it plumbs untold depths. Berdan's venomous voice mines deeply personal themes of resentment, regret, reflection and addiction over the hum of Greenberg's almost impossibly disciplined guitar, bass synth, and drum machine lines. Greenberg uses the word templatized? to describe their approach to writing songs for Uniform. There's this set bunch of gear to create sounds, and it only creates sound through a certain process, or within its own limitations,? Greenberg said.
- https://youtu.be/zTa1CiFtQlc
PINKISH BLACK
(Doom Metal, US)
PINKISH BLACK is a group that displays an unflinching capacity to dip their toes in all sorts of disparate musical markets, from doom metal and industrial to post-punk and no-wave.
- https://youtu.be/aRtajGl2zuU
RIVIÈRE DE CORPS
(Doom Synth - Grande Rousse disques / Vague à l'Âme - Strasbourg, FR)
Musique pesante avec des synthés qui dégueulent de distorsion, reverb, delay; une voix lointaine, aux propos obscurs et inquiétants. Mantras païens modernes en provenance de l'Aube (10).
- https://youtu.be/zHn-xobGnYI
Infos réservation :
Tél. 01 46 28 12 90 - Email. communication@supersonic-club.fr
Tous les artistes de Uniform - Pinkish Black - Rivière De Corps
Uniform •
Pinkish Black •
Rivière De Corps •
Les concerts à venir à Paris