Concert The Away Days à Paris le 27 novembre 2023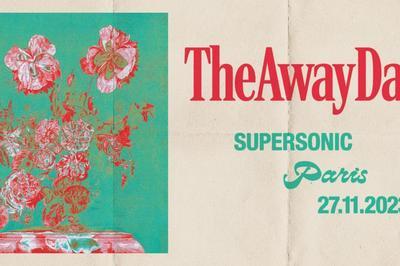 Supersonic

Restez informé à propos de cet événement
Recevez par e-mail les nouvelles informations concernant cet événement : billetterie, programme, tout changement d'horaires, de tarifs ou de lieu. Soyez également informé en cas d'annulation.
Recevez les newsletters Agenda Culturel et gérez votre abonnement depuis l'espace membre.
Plus d'infos sur le concert The Away Days à Paris
Cette soirée plaira aux fans de... Tame Impala, Slowdive & Jonathan Bree
THE AWAY DAYS
(Dream pop - Istanbul, TUR)
Since conception, the band has developed a heightened depth of sound, seamlessly moving between indie rock to shoegaze, to dream pop with an occasional touch of psychedelia with East Turkish influences.
According to The Guardian: Turkish shoegaze might not be a major phenomenon, but given the breadth of their talent, it soon could be?; and The Independent included them in their list of Young Bands That Must Be Listened To?.
Their songs became the favourites of Cheap Monday, H&M and Topshop stores. The band have released their debut album with their hit track Layers? reaching more than 15 million streams on Spotify with following singles Sadness will last Forever'' and How Many Times''.
They garnered widespread media support from the likes of The Independent, The Guardian, NME, Noisey, NPR and Clash to name a few. Band's atmospheric performances on the stages of festivals such as SXSW and The Great Escape earnt them an international following with sold out shows around Europe, drew invitations to warm the stages for the likes of Jungle, Belle & Sebastian, Massive Attack and Portishead around the globe.
FFO / Si vous aimez : Tame Impala, Foals, Jungle
https://open.spotify.com/artist/1IOd0nWLYWDqGv3iQn2gio
https://www.youtube.com/channel/UC9k29tFapySJ4dyKyaJC-2Q
La suite de la programmation arrive très vite !
Lundi 27 Novembre 2023
Entrée gratuite
- Ouverture des portes à 19h00
- Happy Hour de 19h à 20h (3?50 la pinte)
- Si vous êtes témoin ou victime d'une agression, vous pouvez alerter le personnel du bar ou si vous préférez, vous pouvez nous écrire à cette adresse: communication@supersonic-paris.fr
SUPERSONIC
9 rue Biscornet, 75012 Paris
Métro Bastille (sortie rue de lyon)
Infos réservation :
Tél. 01 46 28 12 90 - Email. communication@supersonic-club.fr
Tous les artistes de The Away Days
Les concerts à venir à Paris