Concert The Asteroid No.4 - Magic Shoppe à Paris le 1er novembre 2022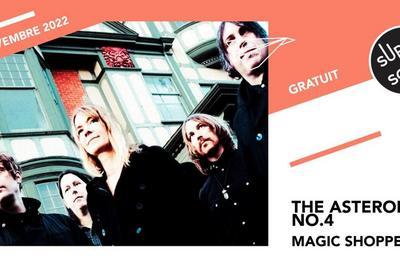 Supersonic

Restez informé à propos de cet événement
Recevez par e-mail les nouvelles informations concernant cet événement : billetterie, programme, tout changement d'horaires, de tarifs ou de lieu. Soyez également informé en cas d'annulation.
Recevez les newsletters Agenda Culturel et gérez votre abonnement depuis l'espace membre.
Plus d'infos sur le concert The Asteroid No.4 - Magic Shoppe à Paris
WELCOME TO SUPERSONIC
Concerts gratuits, Nuits rock et Disquaire à Paris !
THE ASTEROID NO.4
(Dream pop - San Francisco, USA)
The Asteroid No.4 are an American psychedelic band based in the San Francisco Bay Area. Originating from Philadelphia in the latter half of the 1990s, the band began their relocation to the west coast in 2011.
Since forming, the band has endured several lineup changes. Over the last ten years, however, they have consistently included Scott Vitt (vocals, guitar), Eric Harms (guitar), Matty Rhodes (bass, vocals). Most recently the band has added Mark Tarlton (drums) and Camilla Saufley (keys, guitar, vocals)
The band is known for their dynamic live act, integrating multi-textured guitars and reverb-drenched vocal harmonies over an unwavering rhythm section. However, it's been their prolific recording output, including what will soon be their ninth full-length album, that's helped build their dedicated fan base within the flourishing underground psychedelic scene. With well over a dozen compilation appearances, digital-only rarity releases, and multiple singles and EPs, the band is said to improve with each release.
https://theasteroidno4.bandcamp.com/
https://www.youtube.com/watch?v=Sn9fJ8uDaiE
MAGIC SHOPPE
(Shoegaze - Little Cloud Records - Boston, USA)
Hailing from Boston, Massachusetts, Magic Shoppe collectively create a swirling cacophony of modern day psychedelia intriguingly peppered with sonic atmospherics, fuzz, reverb drenched boy-girl harmonies and droning instrumentation.
Magic Shoppe have o?ered up their own concoction of shoegaze-y, dark and heavy psychedelia on four EPs and three full-length albums across an eight-year period. The members of the group are Josiah Webb (vocals/lead guitar), Stevie Moonboots (bass), Dave Mulvaney (drums), and Richie Gibson (rhythm guitar).
https://magicshoppe.bandcamp.com/
https://www.youtube.com/watch?v=6kSGLjX88M8
La suite de la programmation arrive très vite !
-----------
Mardi 1 Novembre 2022
Entrée gratuite jusqu'à 23h
- Ouverture des portes à 19h00
- Happy Hour de 19h à 20h (3?50 la pinte)
-----------
SUPERSONIC
9 rue Biscornet, 75012 Paris
Métro Bastille (sortie rue de lyon)
http://supersonic-club.fr/
Infos réservation :
Tél. 01 46 28 12 90 - Email. communication@supersonic-club.fr
Tous les artistes de The Asteroid No.4 - Magic Shoppe
The Asteroid No.4 •
Magic Shoppe •
Les concerts à venir à Paris