Concert Porchlight, Phaon et Difference à Paris le 8 novembre 2023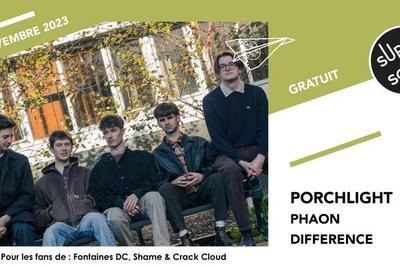 Supersonic

Plus d'infos sur le concert Porchlight, Phaon et Difference à Paris
Cette soirée plaira aux fans de... Fontaines DC, Shame & Crack Cloud
PORCHLIGHT (22h30)
(Alternative rock - Fragile Hands - Brighton, UK)
Formed of lead vocalist Sam Crees, bassist Oli Port, guitarists Hodges and Coram, and Harry Geal on drums, Porchlight are a charismatic hybrid who, off of the back of a handful of singles and rabid word-of-mouth, are fast becoming one of the most beguiling acts to watch.
Tried and tested through a myriad of notorious live-shows, which saw the group establish an ever-growing fanbase throughout the UK and EU, the five tracks that would eventually go on to form ?Wives Tales & Hymns of the Earth', Porchlight's forthcoming debut EP, are a symbolic mis-mash of heart-on-sleeve musicianship and delightfully raucous lyricism.
FFO / Si vous aimez : Squid, The Smile
https://open.spotify.com/artist/2JOTv1ppSGx9GAHZtkc8gi...
https://www.youtube.com/watch?v=Vjl--hNp0M0...
PHAON (21h30)
(Pop rock - Fredrich Monster Records - Limoges, FR)
Ce qui frappe d'abord chez Phaon, c'est cette voix singulière, théâtrale et en fran?ais, dépeignant l'humain et ses tourments dans une pop sauvage où se côtoient l'esprit new wave des années 80 (Talk Talk / Taxi Girl) avec une certaine fraîcheur rock (BRNS / Lescop).
Sa présence sur scène est une évidence. C'est là que Phaon révèle le mieux son art.
Là où, par l'énergie dégagée, par un corps à corps entre poésie et intensité sonore,
il sait happer son auditoire. (Inouïs du Printemps de Bourges 2022, Festival Fédéchansons, Les Trois Baudets, 1ère parties Flavien Berger, La Maison Tellier, Corine...)
FFO / Si vous aimez : Talk Talk / Flavien Berger / Lescop
DIFFERENCE (20h30)
(Post punk - Paris, FR)
Groupe parisien créé par Baptiste et Pedro, Difference est aujourd'hui composé de 5 têtes. Cette toute nouvelle formation rock, post punk aux teintes cold wave, apporte à la scène fran?aise un souffle enragé.?
FFO / Si vous aimez : The Stranglers, Nick Cave, The Murder Capital
https://www.facebook.com/profile.php?id=100088877407443
Mercredi 8 Novembre 2023
Entrée gratuite
- Ouverture des portes à 19h00
- Happy Hour de 19h à 20h (3?50 la pinte)
- Si vous êtes témoin ou victime d'une agression, vous pouvez alerter le personnel du bar ou si vous préférez, vous pouvez nous écrire à cette adresse: communication@supersonic-paris.fr
SUPERSONIC
9 rue Biscornet, 75012 Paris
Métro Bastille (sortie rue de lyon)
Infos réservation :
Tél. 01 46 28 12 90 - Email. communication@supersonic-club.fr
Tous les artistes de Porchlight, Phaon et Difference
Porchlight •
Phaon •
Difference •
Les concerts à venir à Paris