Concert Newski, The Quiet Screamers, Sex Shop Mushroom à Paris le 17 octobre 2023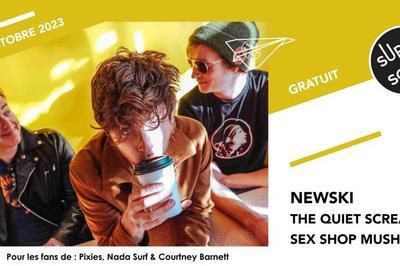 Supersonic

Plus d'infos sur le concert Newski, The Quiet Screamers, Sex Shop Mushroom à Paris
Si vous êtes fan de... Pixies, Nada Surf & Courtney Barnett
NEWSKI (22h30)
(90's rock - Milwaukee, USA)
A revival of 90's alternative, durable midwest rock trio NEWSKI enlists a friend/musical influence on every track for their new LP Friend Rock. From veterans like Matthew Caws (Nada Surf), Brian Vander Ark (the Verve Pipe), Ryan Miller (Guster), Miles Nielsen, and Scott Terry (Red Wanting Blue) to overseas acts like H Burns (France), The Secret Beach (Canada), and The Shabs (South Africa), NEWSKI compiles an internationally collaborative album from his own tiny house in Milwaukee, Wisconsin.
FFO / Si vous aimez : Nada Surf, Built To Spill, Pixies
https://brettnewski.bandcamp.com/music
https://www.youtube.com/watch?v=RBqtbqNqoKc
THE QUIET SCREAMERS (20h30)
(Garage punk - Suspicious Sausage - Paris, FR)
Un trio bruitiste, énergique & sauvage, mêlant électrisation frénétique & ambiances psychédéliques.
Résultat ?
Un Garage-Heavy-Blues-Boogie-Punk, épais et lourd, qui transpire la bière & le bourbon liquoreux dans des riffs oppressants qui consomment tout l'oxygène de la pièce.
FFO / Si vous aimez : The White Stripes, Queens of the Stone Age, Black Rebel Motorcycle Club
https://thequietscreamers.bandcamp.com/.../monochrome...
https://youtube.com/channel/UCVpXluW34ngOUgXQLarkRTw
SEX SHOP MUSHROOM
(Grunge punk - Paris, FR)
Sex Shop Mushrooms c'est lourd, venez tout casser.
https://www.instagram.com/sexshopmushroomsband/
-----------
Mardi 17 Octobre 2023
Entrée gratuite
- Ouverture des portes à 19h00
- Happy Hour de 19h à 20h (3?50 la pinte)
- Si vous êtes témoin ou victime d'une agression, vous pouvez alerter le personnel du bar ou si vous préférez, vous pouvez nous écrire à cette adresse: communication@supersonic-paris.fr
-----------
SUPERSONIC
9 rue Biscornet, 75012 Paris
Métro Bastille (sortie rue de lyon)
Infos réservation :
Tél. 01 46 28 12 90 - Email. communication@supersonic-club.fr
Tous les artistes de Newski, The Quiet Screamers, Sex Shop Mushroom
Newski •
The Quiet Screamers •
Sex Shop Mushrooms •
Les concerts à venir à Paris