Concert Mythic Sunship - Karkara à Paris le 26 avril 2022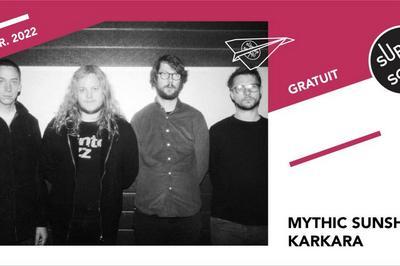 Supersonic

Plus d'infos sur le concert Mythic Sunship - Karkara à Paris
WELCOME TO SUPERSONIC
Concerts gratuits, Nuits rock et Disquaire à Paris !
MYTHIC SUNSHIP
(Psych rock - Copenhague, Suède)
With a band name mingled from album titles by John Coltrane and Sun Ra one might expect Mythic Sunship to be jazz band. However, this is not quite the case, although the Copenhagen quartet shares a similar sense of exploration and general untamedness with that of the two masters of cosmic jazz.
The destination is transcendence alright, but the vehicle, ultimately, is assembled from decades of ROCK! Not your dad's rock exactly (unless your dad hung out in Münich or Wümme in the early 1970s, that is), but nonetheless ROCK, where ferocious drum-pounding and thick, Geezery basslines adds fuel to an endless pyre of blazed-out dual fuzz guitar action.
This stuff is wild.
Si vous aimez : Hills, Mt. Mountain, Monomyth
- https://youtu.be/XdnWUNXj4-M
KARKARA
(Fuzz rock/garage - Stolen Body Records - FR)
L'envie de créer une musique plus brute et viscérale, explorer de nouveaux horizons rocks en intégrant des éléments orientaux et tribaux à un univers fuzz rock / garage.
Un écho assourdissant qui jaillit soudainement hors de la poussière, transmettant à lui seule toute la désolation d'un paysage sans fin.
Un voyage pour ceux qui aiment la musique brute et viscérale. Puissante à en faire exploser les enceintes pour de bon. Le son de la fuzz et le bourdon du didgeridoo s'alignant avec une batterie survitaminée. Un son de basse vrombissant qui vous donne l'impression de voyager à pleine vitesse entre les dunes. Des voix qui surgissent et vous parlent tels des échos lointains venus d'un paysage désolé.
Si vous aimez : Omar Khorchid, Black Sabbath, Oh Sees
- https://youtu.be/u7Cxg3UqF8A
Infos réservation :
Tél. 01 46 28 12 90 - Email. communication@supersonic-club.fr
Tous les artistes de Mythic Sunship - Karkara
Mythic Sunship •
Karkara •
Les concerts à venir à Paris