Concert Mom Jeans, Oso Oso à Paris le 18 février 2023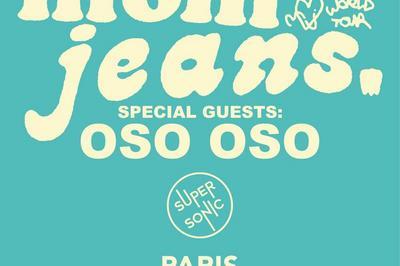 Supersonic

Restez informé à propos de cet événement
Recevez par e-mail les nouvelles informations concernant cet événement : billetterie, programme, tout changement d'horaires, de tarifs ou de lieu. Soyez également informé en cas d'annulation.
Recevez les newsletters Agenda Culturel et gérez votre abonnement depuis l'espace membre.
Plus d'infos sur le concert Mom Jeans, Oso Oso à Paris
Concerts gratuits pour les fans d'emo punk !
MOM JEANS
(Midwest emo - Counter Intuitive Records - Berkeley, USA)
Give me something sweet so I can make it through the week/Don't care if I end up with cavities.? This is the plea that opens Sweet Tooth, the upcoming third LP from Berkeley's Mom Jeans. It's the introduction to a quasi-concept record, a structural departure for the emo punk quartet. Before any of the record's 13 songs had been written and recorded, the band knew what Sweet Tooth would sound like: late ?90s and early 2000s pop rock and pop punk bliss. For frontman Eric Butler, that meant revisiting the guitar pop perfection of Weezer and Oasis alongside deep cuts from one - hit wonders like Third Eye Blind, Fountains of Wayne, and Superdrag. Butler, guitarist Bart Thompson, bassist Samuel Kless, and drummer Austin Carango all arrived at the same description for these sounds: ear candy
OSO OSO
(Indie punk - Triple Crown Records - New York, USA)
Nothing goes quite like you plan it, and the same could be said for oso oso's fourth full-length, sore thumb. The album is an unexpected and unintentional return-to-form; a capsule of early 2021 when oso's Jade Lilitri (he/him; vocals/guitar/bass/drums) and his late cousin Tavish Maloney (he/him) holed themselves up at producer Billy Mannino's (Bigger Better Sun) Two Worlds Recordings. For a solid month, the three of them practically lived at the studio, crafting this entire album together in between nerf gun fights and psychedelic trips. The idea was to spend that month writing and demoing, then take a month off to decide where and who to work with to bring it to life--but everything happens for a reason.
Less than a month later, when Tavish suddenly passed away, Jade knew immediately that he was not going to be touching these songs. Almost nothing has changed since; aside from a brilliant mix by Mike Sappone, sore thumb was nearly complete the day the two cousins left the studio.
La suite de la programmation arrive très vite !
Samedi 18 Février 2023
Entrée gratuite
- Ouverture des portes à 19h00
- Happy Hour de 19h à 20h (3?50 la pinte)
SUPERSONIC
9 rue Biscornet, 75012 Paris
Métro Bastille (sortie rue de lyon)
Infos réservation :
Tél. 01 46 28 12 90 - Email. communication@supersonic-club.fr
Vidéos de concert Mom Jeans, Oso Oso
Tous les artistes de Mom Jeans, Oso Oso
Les concerts à venir à Paris