Concert Jack Of Heart, Music On Hold et Guest à Paris le 14 février 2023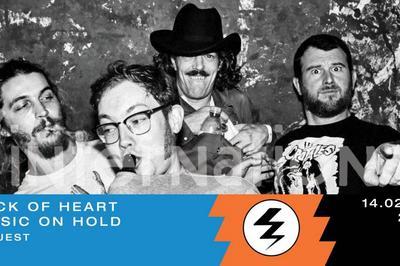 L'international

Plus d'infos sur le concert Jack Of Heart, Music On Hold et Guest à Paris
L'Inter présente :
Jack Of Heart - FR/BE - Garage-Punk Legends - Born Bad Rds, Slovenly Rds
Tout nouvellement créé, YAÂKOV LIVO by Jack Of Heart n'a rien fait ni rien sorti, mais Piero Ilov (Mighty Go Go Players, Demon's Claws, Fatals, et donc Jack Of Heart) dit que c'est son meilleur projet avec ses meilleures chansons, et on veut bien le croire.
Jack of Heart, orchestre fuzzée, band avion, roi des poneys dans la prairie, s'est formé en 2006. In The Red records voulait leur 1er LP (Jack Of Heart s/t), il finira par atterrir chez l'excellence Fran?aise Born Bad records (ainsi que son successeur In Yer Mouth).
S'en suivi le LP Only Seven Inches For Your Girlfriend chez Teenage Menopause records (compilation de 45t sortis chez Slovenly, Perpetrator, rob's house, Nasty etc...), et un paquet de tournées en Europe et aux Etats-Unis, aux côtés des Black Lips, King Khan & the Shrines, Magnetix, Cheater Slicks, Demolition doll rods, Jack Oblivian, Tav Falco, Strange boys, etc.
Pour la suite, rendez-vous le 14 février !
https://jackofheart.bandcamp.com/
MUSIC ON HOLD - Paris, FR - Alt-Pop - Born Bad Records
Entre outsider pop et références new-wave passées au tamis, les concerts de Music on Hold sont l'occasion d'assister un mélange d'hédonisme bienveillant et de cynisme assumé.
A l'origine projet solo, le désormais quintet regroupe des membres de Ray Jane, Antonin Appaix ou encore Nathan Roche Band. C'est ce nouveau lineup qui présentera des morceaux d'un prochain album à paraitre en septembre 2023 chez Born Bad Records.
https://musiconhold.bandcamp.com/
https://www.instagram.com/musiconhold4ever/
+ Guest
Infos réservation :
Tél. 06 72 23 29 81 - Email. direction@linternational.fr
Tous les artistes de Jack Of Heart, Music On Hold et Guest
Les concerts à venir à Paris