Concert Dust à Paris le 31 octobre 2023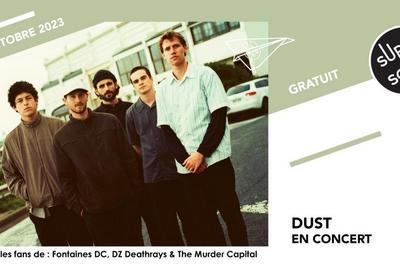 Supersonic

Plus d'infos sur le concert Dust à Paris
Cette soirée plaira aux fans de... Fontaines DC, DZ Deathrays & The Murder Capital
DUST
(Post punk - Newcastle, UK)
Newcastle post-punk quintet dust are fast cementing their status as one of Australia's most singular and essential bands. Urgent, mesmeric, and arresting both on and off the stage, the collective have wasted no time in ensuring that their music and message reaches as far as it possibly can.
Forming against the backdrop of COVID in May 2020, the group - comprising vocalists and guitarists Gabriel Stove and Justin Teale, bassist Liam Smith, guitarist and saxophonist Adam Ridgway, and drummer Kye Cherry - gathered whenever they could to hone their craft, performing at every possible chance as they sharpened their sprawling yet intricate sound.
Having officially made their indelible mark upon the music scene by way of et cetera, etc, the eight-track EP is a culmination of dust not just as people, but as resonant artists.
FFO / Si vous aimez : Fontaines DC, DZ Deathrays & The Murder Capital
https://open.spotify.com/.../artist/1QcbaOVrpo91k6rHnzhMeA
https://www.youtube.com/watch?v=Vwyv_NPKOPI
La suite de la programmation arrive très vite !
-----------
Mardi 31 Octobre 2023
Entrée gratuite
- Ouverture des portes à 19h00
- Happy Hour de 19h à 20h (3?50 la pinte)
- Si vous êtes témoin ou victime d'une agression, vous pouvez alerter le personnel du bar ou si vous préférez, vous pouvez nous écrire à cette adresse: communication@supersonic-paris.fr
-----------
SUPERSONIC
9 rue Biscornet, 75012 Paris
Métro Bastille (sortie rue de lyon)
Infos réservation :
Tél. 01 46 28 12 90 - Email. communication@supersonic-club.fr
Les concerts à venir à Paris