Concert Beach Riot, Belmondo, Domino And The Ghosts à Paris le 10 octobre 2023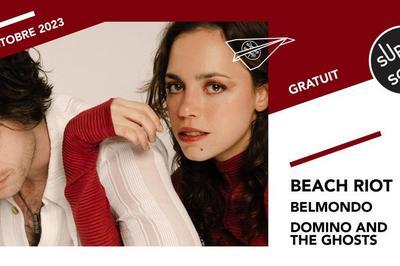 Supersonic

Plus d'infos sur le concert Beach Riot, Belmondo, Domino And The Ghosts à Paris
WELCOME TO SUPERSONIC
Concerts gratuits, et nuits rock à Paris !
BEACH RIOT (Fuzz pop - Brighton, UK)
https://beachriot.bandcamp.com/music
BELMONDO (Rock - Brighton UK)
C'est un peu comme si Muse sortait ses meilleurs albums à l'époque de la Cure Mania. Belmondo (bien que son nom ne l'indique pas) mélange habilement l'indie rock moderne avec des sonorités sombres rappelant Killing Joke.
https://open.spotify.com/.../709jhLux5F7qDhZQc6Yw4t...
DOMINO AND THE GHOSTS (Indie pop - Metz, FR)
Deftones, The Smashing Pumpkins ou encore Psysalia Psysalis Psyche font partie des influences directes de Domino And The Ghosts. Curieux ou curieuses du résultat de ce mélange ? Deux options s'offrent à vous : le live ou les EP ! Bonne découverte !
https://dominoandtheghosts.bandcamp.com/
Mardi 10 octobre 2023
Entrée gratuite
Ouverture des portes à 19h00
Happy Hour de 19h à 20h (3.50 la pinte)
Infos réservation :
Tél. 01 46 28 12 90 - Email. communication@supersonic-club.fr
Vidéo de concert Beach Riot, Belmondo, Domino And The Ghosts
Tous les artistes de Beach Riot, Belmondo, Domino And The Ghosts
Beach Riot •
Belmondo •
Domino And The Ghosts •
Les concerts à venir à Paris