Concert Zzzahara, Naked Lungs, Winter Gardens, Tummyache et Nightbus à Paris le 18 octobre 2023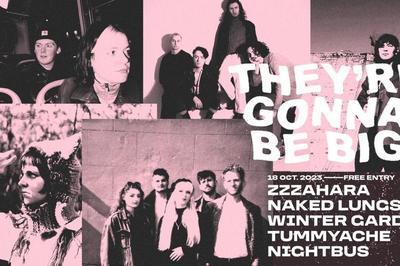 Supersonic

Plus d'infos sur le concert Zzzahara, Naked Lungs, Winter Gardens, Tummyache et Nightbus à Paris
Véritables coups de coeur de l'équipe, talents encore bruts de la scène de demain, on vous invite à découvrir ces groupes étrangers pour leur toute première date à Paris !
ZZZAHARA
22h50 - Supersonic Club
(Dream Pop / Los Angeles, USA)
Issu du projet Eyedress, Zzzahara est un voyage illuminé en plein trip rêveur dans les rues de Los Angeles. Leur dream pop noyé dans la reverb n'est pas sans rappeler les groupes du fameux label Captured Tracks. Et pour leur première scène Fran?aise ca sera au Supersonic !
-
Coming from the Eyedress project, Zzzahara is an illuminated trip through the dreamy streets of Los Angeles. Their dream pop drowned in reverb is reminiscent of the bands on the famous Captured Tracks label. And their first French show will be at Supersonic!
FFO : DIIV, Beach Fossils & Vacations
- Le clip : https://www.youtube.com/watch?v=EuF1JfjE1WU
- Le live : https://youtu.be/MjW49Kw9NuE?si=sVbtok0_JbTP6lrE
- Instagram : @zzzahara.wav
NAKED LUNGS
22h00 - Supersonic Club
(Post Punk Noise / Dublin, IRE)
La nouvelle scène noise irlandaise n'est pas prête d'arrêter de nous bombarder d'obus soniques. Après Enola Gay, Chalk ou Mhaol, c'est au tour du quatuor Naked Lungs d'envoyer leur déflagration ! A découvrir en exclusivité (encore) lors d'une TGBB !
-
The new Irish noise scene isn't about to stop bombarding us with sonic shells. Following in the footsteps of Enola Gay, Chalk and Mhaol, it's now the turn of quartet Naked Lungs to unleash their blast! To be discovered in exclusivity (again) as part of a TGBB!
FFO : Gilla Band, The Psychotic Monks & Ditz
- Le clip : https://www.youtube.com/watch?v=KaGgv2mmm_w
- Le live : https://www.youtube.com/watch?v=v-peYmMoZ4Y
- Instagram : @naked_lungs
WINTER GARDENS
21h20 - Supersonic Records
(Dream Pop Shoegaze / UK)
Découvert lors de notre virée anglaise au festival Rockaway Beach, le quintet a mis toute l'équipe d'accord. La beauté de Slowdive, l'étrangeté de Kate Bush, la new wave de New Order et l'efficacité de Blood Red Shoes, il y en a pour tous les goûts. Bienvenue dans le melting pot de Winter Gardens !
-
Discovered during our British trip to the Rockaway Beach festival, the quintet got the whole team hooked. The beauty of Slowdive, the strangeness of Kate Bush, the new wave of New Order and the efficiency of Blood Red Shoes, there's something for everyone. Welcome to the Winter Gardens melting pot!
FFO : Slowdive, Kate Bush & Blood Red Shoes
- Le clip : https://www.youtube.com/watch?v=MkfX3kP_lAs
- Instagram : @wintergardensband
TUMMYACHE
20h40 - Supersonic Club
(Indie Rock / London, UK)
Entre dream pop et grunge, il y a Tummyache. Sa musique est à la fois énervée et aérienne, captivante et sincère, tout en contraste. Ses performances live le prouvent, on a jamais le droit au même concert ! A découvrir pour la première fois en France au Supersonic !
-
In between dream pop and grunge, there's Tummyache. Their music is both energetic and ethereal, captivating and sincere, full of contrasts. The live performances prove it: you never get the same concert! To be discovered for the first time in France at Supersonic!
FFO : Porridge Radio, Honeyglaze & The Breeders
- Le clip : https://www.youtube.com/watch?v=ZFgXPfQwi6w
- Le live : https://youtu.be/wv3ezFSmrGQ?si=CilAN2s5ucubTgTu
- Instagram : @tummyachemusic
NIGHTBUS
20h00 - Supersonic Records
(Dream Pop / Manchester, UK)
On commence la soirée avec de la musique de fin de soirée (ouai on est des fous tavu) ! Rarement un groupe a aussi bien porté son nom. Enorme coup de coeur de la programmation, toute en douceur et mélancolique de Nightbus nous présentera son univers sombre pour sa première date hors UK.
-
We kick off the evening with some late-night music (yeah, we're crazy, aren't we?)! Rarely has a band lived up to its name so well. One of the line-up's big favourites, the gentle, melancholic Nightbus will be showcasing their dark world on their first date outside the UK.
FFO : BDRMM, Siouxie and the Banshees & Portishead
- Le clip : https://www.youtube.com/watch?v=PZhlV5jxM00
- Le live : https://youtu.be/CiEQQyYIWG4?si=QebzRmcRIOTZjld_
- Instagram : @nightbus__
-----------
Mercredi 18 Octobre 2023
Entrée gratuite
- Ouverture des portes à 19h00
- Si vous êtes témoin ou victime d'une agression, vous pouvez alerter le personnel du bar ou si vous préférez, vous pouvez nous écrire à cette adresse: communication@supersonic-paris.fr
-----------
SUPERSONIC (Club & Records)
9 rue Biscornet, 75012 Paris
Métro Bastille (sortie rue de lyon)
Infos réservation :
Tél. 01 46 28 12 90 - Email. communication@supersonic-club.fr
Tous les artistes de Zzzahara, Naked Lungs, Winter Gardens, Tummyache et Nightbus
Zzzahara •
Naked Lungs •
Winter Gardens •
Tummyache •
Nightbus •
Les concerts à venir à Paris